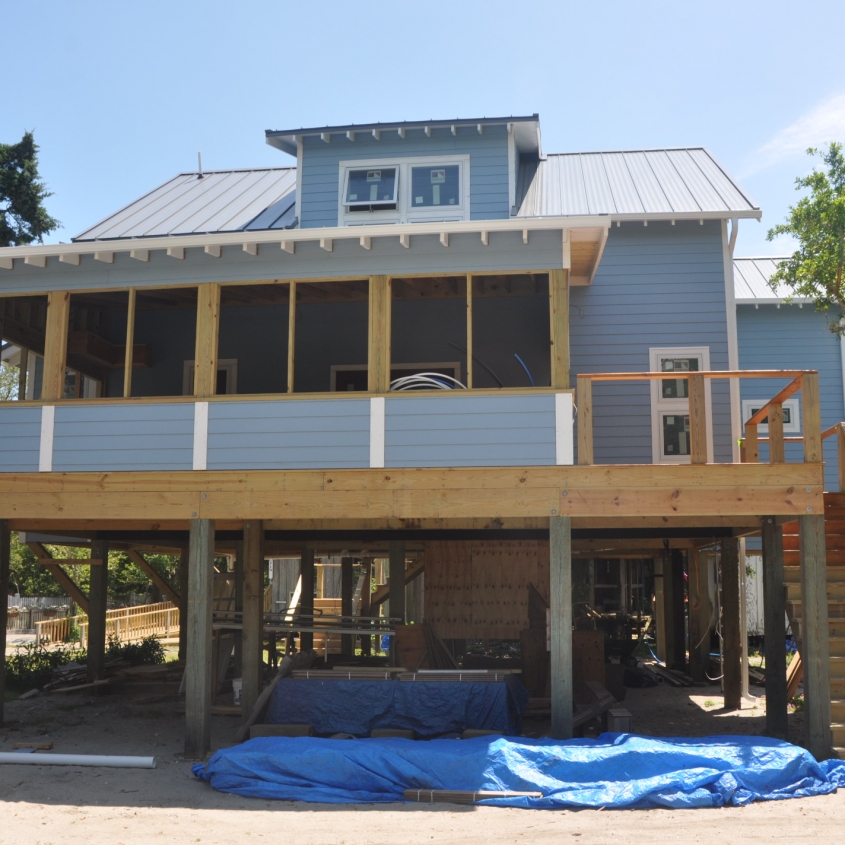 American Red Cross Grant Funds Help Outer Banks Repair and Prepare
The Outer Banks Community Foundation has completed work on a grant funded by the American Red Cross. The grant was designed to assist families in need following Hurricane Dorian, and to provide the Community Foundation with resources to review and improve its disaster response process.
The grant funded a part-time Disaster Relief Coordinator, who supported existing Community Foundation disaster relief grants as well as the new grant funds made available by the Red Cross.
"The partnership between the Red Cross and the Outer Banks Community Foundation leaves both the Community Foundation and the community we serve stronger and better prepared to respond to future disasters," opined Community Foundation President and CEO Chris Sawin. "Our thanks go out to our nonprofit partners, and to Disaster Relief Coordinators Bob Muller and Susan Rhew, for their work on this grant."
The grant also funded mental health services on Ocracoke Island, which were provided through Ocracoke Interfaith Relief and Recovery Team (OIRRT) and staffed by Earle Irwin, a retired clinical nurse specialist. Her services were welcomed by the island's residents as they worked to overcome the extensive damages, losses, and disruptions caused by Hurricane Dorian.
Work managed under the grant helped repair and rebuild 41 homes; six of those home repair projects were funded directly by the Red Cross. The home repair work was accomplished by volunteers working with Ocracoke Interfaith Relief and Recovery Team and UMCOR (the United Methodist Council on Relief). Work done by Cape Hatteras United Methodist men to repair and elevate repetitive loss properties on Hatteras Island was also administered under the ARC grant.
In addition to repairing hurricane-damaged homes, the Red Cross grant afforded the Outer Banks Community Foundation the opportunity to restructure its disaster response program. The program will now include more nonprofits and will have better defined operating parameters. Changes were made as to how costs are covered, to the Community Foundation's internal and external operational plans, and even how disaster relief donations are accounted for. The improvements were driven by the Community Foundation's nonprofit partners, and discussions with Dare County Emergency Management, Dare County Social Services, and Hyde County.
Final funds from the Red Cross grant were awarded to Ocracoke Interfaith Relief and Recovery Team, Cape Hatteras United Methodist Men, and Cape Hatteras Community Emergency Rescue Team.  These final grants are being used to replace supplies and equipment expended but not replaced by these groups after Hurricane Dorian.
About the American Red Cross:
The American Red Cross shelters, feeds and provides emotional support to victims of disasters; supplies about 40 percent of the nation's blood; teaches skills that save lives; provides international humanitarian aid; and supports military members and their families. The Red Cross is a not-for-profit organization that depends on volunteers and the generosity of the American public to perform its mission. For more information, please visit redcross.org or cruzrojaamericana.org, or visit us on Twitter at @RedCross.
The Outer Banks Community Foundation is a 501(c)3 nonprofit charitable organization that connects people who care with causes that matter. Based in a historic flat top cottage in Southern Shores, the Community Foundation manages more than $24 million across more than 200 charitable funds for individuals and agencies, awards grants to local nonprofits, administers 58 scholarship programs, and provides tailored services to help donors pursue their charitable interests. Since its inception in 1982, the Community Foundation has awarded more than $11 million in grants and scholarships to local nonprofits and students. 
https://obcf.org/wp-content/uploads/2021/08/DSC_0390.jpg
1424
2144
OBCF
https://obcf.org/wp-content/uploads/2013/07/obcf-logo.png
OBCF
2021-08-30 12:58:25
2021-09-13 12:48:29
American Red Cross Grant Funds Help Outer Banks Repair and Prepare