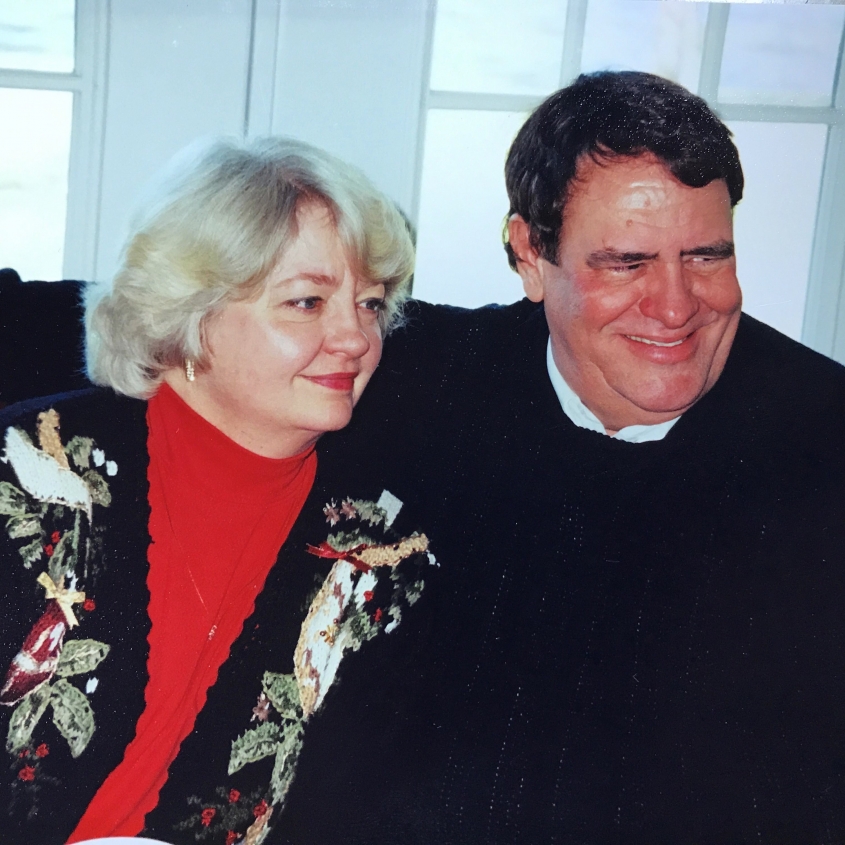 Billy G. Roughton Scholarships To Help Students Achieve Their Dreams
At six foot and one inches, Billy Roughton was a big man, and he had nicknames to match. His many friends called him 'Bear,' from high school onward, his grandkids called him 'Big Daddy,' and he was just 'Billy' to his wife of 50 ½ years, Millie. Billy's story is one of mentorship, marriage, undying devotion, hard work, random acts of kindness, and paying it forward. Millie Roughton recently chose to honor her magnanimous husband by establishing two scholarships at the Outer Banks Community Foundation in his name.
Billy and Millie met in Elizabeth City when they were just 18 and 20 years old. Billy was a store clerk at Overman & Stevenson Pharmacy on Main; Millie was a hairstylist at a salon across the street. Millie recalled, "We started dating in the fall, and we were married that January. We just knew."
Billy soon turned his attention to a career and decided to earn a degree in Pharmacology. He worked at the pharmacy by day and did his schoolwork at night, beginning at College of the Albemarle and ultimately earning his PhD at UNC-Chapel Hill. They started a family; Billy built Millie a hair salon on the side of their home, just off the living room, so she could work and watch their young daughters. "We both worked really hard," she recalled with a smile.
They shared a lifelong love of the Outer Banks, came down to the beach every summer, and soon purchased rental property. They made a permanent move in the 70s with the purchase and relocation of Jacock's, an Elizabeth City pharmacy. "We moved it to Kitty Hawk and renamed it 'Bear Drugs,'" said Millie. "Our daughter Amy was obsessed with bears; she picked out the name."
In addition to owning and running a pharmacy, Billy's interests included commercial development, real estate, and restaurants. "We started Prime Only in Nags Head – the steaks were the best," remembered Millie. "I miss them!"
Billy served on several boards around town, including the Dare County Health Department. One of many gifts made in his lifetime, Billy donated the property where the Monument to a Century of Flight stands today. He also mentored other pharmacists throughout his career, endeavoring to instill in them his penchant for accuracy and quality when mixing and compounding prescriptions. Always a strong believer in education, Billy anonymously provided financial support to a number of college students throughout his career.
Their daughters, Pam, Amy, and Jennifer, naturally picked up a strong work ethic and love for learning from their parents. Pam attended the NC School of Science & Mathematics in Durham while in high school, and then went on to UNC to earn her degree. Amy attended College of the Albemarle and UNC-W, and ultimately went back for a second career, as an older student. She earned degrees in both Arts and Nursing, and today is an RN at the Outer Banks Hospital.
"Our youngest, Jennifer, attended College of the Albemarle, and has made a career in the hospitality business," said Millie. "She has loved hospitality since she was a high schooler, working at our restaurants."
Billy died suddenly in 2015, at age 70. Stunned by her family's loss, Millie knew she had to memorialize the wonderful man who had been her partner in life.
And now she has done just that. Earlier this year Millie founded two scholarships in honor of her husband with the Outer Banks Community Foundation. The Billy G. Roughton Memorial Scholarship for Medical Professions will provide financial assistance to students to pursue studies related to medical professions; The Billy G. Roughton Memorial Scholarship for Tourism and Hospitality will help students interested in tourism and/or hospitality. Both look for learners from Dare or Currituck County who have a strong academic record. Two scholarships will be awarded each year, one from each fund. "The funds can be awarded to students right out of high school, or to students returning to school later in life," Millie said.
The Outer Banks Community Foundation manages scholarship funds not only for families, but also for churches, civic groups, nonprofits, and businesses, including the Outer Banks Association of Realtors, Mt. Olivet United Methodist Church, the Duck Woods Ladies Tennis and Golf Associations, and all four of Dare County's local rotary groups, among others. Both of the Roughton scholarships will be managed in partnership with the College of the Albemarle, focusing on students who are ineligible for other scholarship support.
Anyone can memorialize Billy Roughton with a gift to the new scholarship funds in his name, or can create a new scholarship with another purpose. The Community Foundation has awarded more than $1,300,000 in scholarships to over 1,200 Outer Banks students since the organization's inception in 1983. For more information, call Lorelei Costa at 252-261-8839, or visit www.obcf.org.
"Billy never wanted recognition; he didn't want his name on anything," recalled Millie. "This is my way of honoring his life and all that he meant to me, to his family, and to the community. He would enjoy knowing he is helping deserving students attend higher education."
https://obcf.org/wp-content/uploads/2019/12/Billy-and-Millie-Roughton-Xmas-1991-larger.jpeg
3000
4000
Nandy S
https://obcf.org/wp-content/uploads/2023/10/OBCF-logo-primary-3c-web.png
Nandy S
2019-12-10 08:52:08
2022-03-21 16:54:19
Billy G. Roughton Scholarships To Help Students Achieve Their Dreams