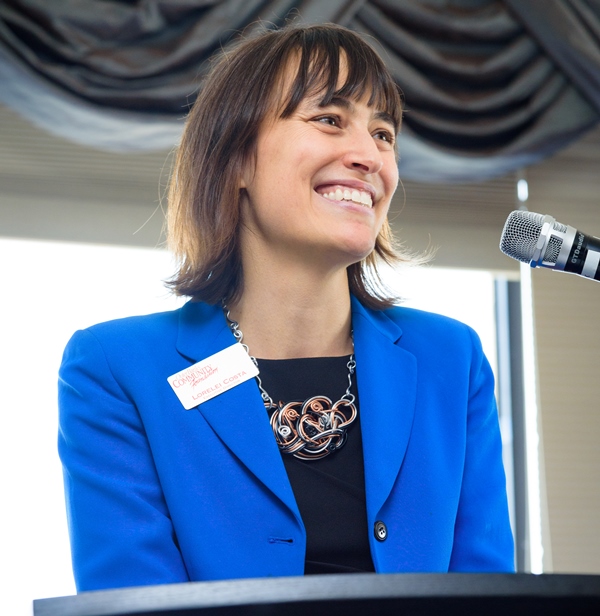 Community Foundation Announces Executive Director Transition
The Board of Directors of the Outer Banks Community Foundation has announced a leadership transition for the Foundation's staff. Long-time Executive Director Lorelei Costa is departing the Outer Banks to become the next Executive Director and CEO of the Suffolk Center for Cultural Arts in Virginia. The Community Foundation's Board is launching a search for the next Executive Director, and Bob Muller will act as Interim Director during the search.
"We are very grateful to Lorelei for her eight years of unwavering and dedicated devotion to the people of the Outer Banks in general, and to our Community Foundation, specifically," said Clark Twiddy, President of the Community Foundation.
During Lorelei's tenure, the Outer Banks Community Foundation nearly tripled in size, in both its annual grant-making and in its endowment. Most recently, Lorelei led significant relief efforts in the Outer Banks during the COVID pandemic, helping hundreds of families with childcare and educational needs during remote learning, and in 2019 after Hurricane Dorian, raising over $1.5 million in the weeks after the storm, rebuilding hundreds of households across Ocracoke and Hatteras.
"Lorelei has left an indelible legacy," said Clark. "She leaves the Outer Banks Community Foundation poised to create more positive change for people and places on our beloved Outer Banks than at any time in our 39-year history."
"I can hardly begin to express how blessed I feel to have served the Community Foundation over the past eight years," said Lorelei. "Although my new position is an amazing opportunity for my career and my family, I am so grateful for every day that I've worked with the Foundation."
The Suffolk Center for the Cultural Arts is the premier visual and performing arts venue for Suffolk. Located in the restored Suffolk High School in the heart of downtown, it boasts a theater, art galleries, and classrooms, housing both world-class and community-based art. Lorelei will be filling the shoes of Susan Babiy Lawrence, who was hired as the Suffolk Center's first employee in 2001 and is retiring from the Center after serving as Executive Director and CEO since 2018.
Lorelei's last day with the Community Foundation will be Friday, March 12. Bob Muller, who is currently serving as the Community Foundation's Disaster Relief Coordinator, will become Interim Executive Director on March 15. Bob is no stranger to the Community Foundation; he served on the Foundation's Board of Directors from 2011 to 2016, acting as Treasurer in 2013 and 2014, and as President in 2015.
"We are very grateful to Bob Muller for stepping in as Interim Executive Director while a search is underway," continued Clark. "Bob's experience with our Community Foundation spans more than a
decade and includes involvement at many levels. He was instrumental in our efforts after Hurricane Dorian, and understands a great deal of our Community Foundation's operations. We are fortunate to have his guidance as we transition to new leadership."
Developmental Associates of Chapel Hill has been retained to lead the search for the Community Foundation's next Executive Director. Developmental Associates has been providing talent identification, talent development, and management consulting services for over 20 years. The search firm will work with the Community Foundation's internal search committee, comprised of board, staff, and organization stakeholders. The search committee will be led by Board member David Shufflebarger.
The Outer Banks Community Foundation is a 501(c)3 nonprofit charitable organization that connects people who care with causes that matter. Based in a historic flat top cottage in Southern Shores, the Community Foundation manages $22 million across 200 charitable funds for individuals and agencies, awards grants to local nonprofits, administers 55 scholarship programs, and provides tailored services to help donors pursue their charitable interests. Since its inception in 1982, the Community Foundation has awarded more than $11 million in grants and scholarships to local nonprofits and students. 
https://obcf.org/wp-content/uploads/2018/07/lorelei-podium-feb-2018.jpg
616
600
Nandy S
https://obcf.org/wp-content/uploads/2013/07/obcf-logo.png
Nandy S
2021-02-05 15:31:22
2021-02-06 06:56:38
Community Foundation Announces Executive Director Transition