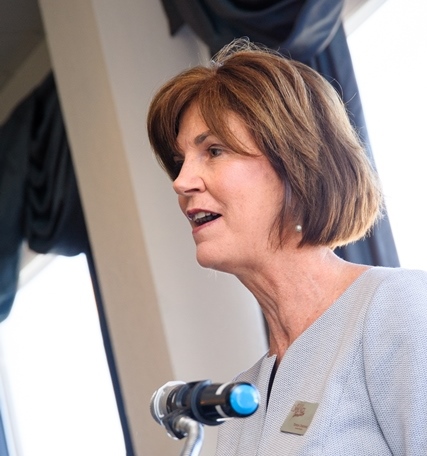 Twenty-Two Local Nonprofits To Participate in Matching Fund Challenge
Ten local nonprofits are creating new endowment funds this year, thanks to the Community Foundation's new Matching Fund Challenge, which was announced by Community Foundation President Teresa Osborne at the organization's annual meeting in February. Additionally, twelve other charities are getting help from the Community Foundation to grow their existing endowments.
In all, twenty-two nonprofits are participating in the program, from Ocracoke to Kitty Hawk, Hatteras Island to Roanoke Island. The causes they support range from health care to the arts, fire protection to animal welfare, historic preservation to emergency assistance for people in need.
"We are excited that so many diverse nonprofits from across the Outer Banks are taking advantage of this new grant program," said Lorelei Costa, the Community Foundation's executive director.
The goal of the Matching Fund Challenge, she said, is to help local nonprofits create, build, and publicize endowment funds. "An endowment can be extremely beneficial to a nonprofit because it can provide easy, reliable income each year to support the nonprofit's mission," stated Ms. Costa. "Endowments really are perpetual legacy funds that are invested to sustain a nonprofit for generations to come."
The Matching Fund Challenge includes two components. First, the Community Foundation pledged $2,500 as a matching grant to local nonprofits that in turn pledged to contribute or raise a minimum of $2,500. The combined $5,000 would be invested in the organization's endowment fund.
Second, the Community Foundation offered $1,000 Marketing Mini-Grants for organizations to promote their endowment to their supporters.
"We are automatically giving a Marketing Mini-Grant to every organization in the Matching Fund Challenge," said Ms. Costa. "We are also offering five stand-alone Mini-Grants to organizations that already have endowments and just want resources to promote them."
Organizations were included in the Challenge on a first-come, first-served basis. Originally the Community Foundation had planned to offer just 10 slots in this initial year. "But when 17 organizations signed up by 10:00 am on the first day of registration, we realized that there was huge demand for endowment funding," explained Ms. Costa. "So we added more slots to include every group that committed on that first day."
The organizations participating in the Matching Fund Challenge are the Beach Food Pantry, Chicamacomico Historical Association, Children & Youth Partnership for Dare County, Community Care Clinic of Dare, Dare County Arts Council, Dare County Boat Builders Foundation, Food for Thought, Friends of Outer Banks History Center, Hatteras Island Cancer Foundation, Hatteras Village Civic Association, Interfaith Community Outreach, NC Lions VIP Fishing Tournament, Ocracoke Community Radio, Ocracoke Fire Protection Association, Outer Banks Hotline, Outer Banks Relief Foundation, and Outer Banks Sporting Events.
These groups have until November 30 to raise $2,500 each to take advantage of the matching grant.
"Anyone can help any one of these organizations receive their matching funds," said Ms. Costa. "Interested donors should contact their favorite charities on the list to pledge their support." The Community Foundation is asking each individual group to collect donations from supporters to ensure that gifts are attributed correctly.
In addition to the aforementioned nonprofits, the Elizabethan Gardens, Outer Banks SPCA, First Flight Society, Dare Education Foundation, and Ocracoke Youth Center will receive stand-alone Marketing Mini-Grants to promote their existing endowments.
"The Matching Grant Challenge could not come at a better time for nonprofits," said Ms. Costa. "Here on the Outer Banks, the competition for grants, donations, and business sponsorships has become incredibly fierce. An endowment, on the other hand, can provide dependable funding for a nonprofit for countless years ahead."
Any 501(c)3 serving the Outer Banks that missed the Matching Fund Challenge in 2017 will have another chance in 2018, when the Community Foundation board intends to renew the Challenge in some iteration. Click here for more information about the Matching Fund Challenge.
https://obcf.org/wp-content/uploads/2017/03/151-FB-Teresa-Osborne.jpg
456
427
OBCF
https://obcf.org/wp-content/uploads/2013/07/obcf-logo.png
OBCF
2017-03-13 09:59:57
2017-06-13 09:28:09
Twenty-Two Local Nonprofits To Participate in Matching Fund Challenge