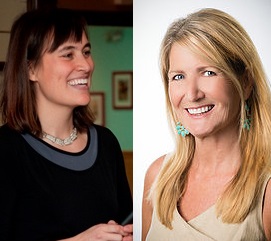 What is a nonprofit endowment fund, and how do they work? What should you be telling your donors about your endowment fund? And most importantly, how do nonprofits grow their endowments to make a real, sustainable difference for their organizations?
While there are many creative ways for building an endowment with small gifts, the donations that will make the biggest impact are planned gifts. And if "planned giving" is a new or intimidating concept for your nonprofit organization, this seminar is for you!
You are invited to join Claire Meyerhoff of the Planned Giving Agency and Lorelei Costa of the Outer Banks Community Foundation on Monday, October 30 for this free, entry-level workshop on endowment and legacy giving. Entitled "From Seed to Harvest: How to Grow Your Endowment to Nourish Your Nonprofit with Legacy Gifts," the seminar will be held from 1pm to 5pm at the Coastal Studies Institute on Roanoke Island.
Our goal is to give you the basic knowledge and tools to start building your endowment through planned (aka legacy) gifts. Specifically, we will talk about:
Prospecting: How to identify the best prospects for a planned gift to your endowment
Marketing: Good ways of reaching those prospects, and key media and messages to use
Talking: How to start a "legacy conversation" one-on-one with your supporters
Stewarding: Ways to keep your legacy donors engaged
We'll also be covering:
Types of Planned Gifts: To familiarize you with the kinds of gifts you are most likely to receive
Endowment Fundamentals: What your staff, board, and donors need to know about donations to your fund
This seminar has been especially designed for organizations that have endowment funds with the Outer Banks Community Foundation. However, if your organization does not yet have a fund with us but is considering starting one, you are invited to join us as well. Registration is now closed, but please call Shirley Hamblet at 727-744-0573 if you would like to check on last minute availability.
About Our Presenters
Claire Meyerhoff is the President of Planned Giving Agency, LLC, in Raleigh, NC. A nationally-recognized nonprofit marketing specialist, Claire is also a seasoned presenter who has worked with hundreds of organizations within the nonprofit sector. This former broadcast journalist (ABC radio, CNN, SiriusXM) and public relations professional has a unique perspective that is truly "donor-centric." She focuses on creating highly-tailored marketing campaigns with a focus on legacy, stewardship, and planned giving outreach.
Lorelei Costa has served as the Executive Director of the Outer Banks Community Foundation since 2012 and in that role has facilitated 75 new endowments and planned gifts for the Outer Banks. An honors graduate of UNC – Chapel Hill, she earned her certificate in nonprofit management from Duke and has 18 years' experience in the philanthropic sector in both North Carolina and Alaska. Lorelei is a member of the Community Leadership Council of the Z. Smith Reynolds Foundation and proudly volunteers as a firefighter and EMT with the Southern Shores Volunteer Fire Department.
https://obcf.org/wp-content/uploads/2017/08/lore2015.jpg
241
271
OBCF
https://obcf.org/wp-content/uploads/2013/07/obcf-logo.png
OBCF
2017-08-29 17:59:10
2017-10-27 16:20:12
FREE Nonprofit Workshop: From Seed to Harvest: Nourishing Your Nonprofit Endowment