Lifting Families Out of the Harm's Way on Hatteras
Partners, donations, and boots on the ground create a firm foundation for the Allender's—and more resiliency for our Outer Banks.
We believe that repetitive personal property losses in low-lying areas can be mitigated by raising more homes on stilts, a time-honored Outer Banks practice. We worked with Trusted Partners—Ocracoke Interfaith Relief and Recovery Team, Cape Hatteras United Methodist Men, and Interfaith Community Outreach, with help from generous Disaster Relief Fund donors, outside funders and volunteers, and county agencies, to help families face future with more safety and security, and fewer losses and displacements.
Some days will just stand out. For Sarah, Myles, and Ariel Allender, September 5, 2019 will live in their memories as the day that Hurricane Dorian made landfall on the southern Outer Banks and drove water up their street and into their home.
Sarah Allender lives with her two children, Myles (10) and Ariel (9) in Frisco. Her family has called southern Hatteras Island 'home' for decades—in fact, their family ancestry can be traced back for five generations on the island, to the 1800's.
"My mom lives right down the street from me; an aunt and uncle are nearby, and my grandparents on both sides are here, too," said Sarah.
When Hurricane Matthew struck in 2016, the family's mobile home was damaged by sound-side storm surge. The cinderblock foundation withstood the flooding, but there was interior damage. The family knew they were at risk for future storms.
Fast-forward a few years, when Hurricane Dorian's predicted trajectory had everyone on edge, in the hours leading up to its landfall.
"A friend at the top of our street let us stay with him," recalled Sarah. "The water came up fast…there was several feet of storm surge, the most we'd ever seen. Our home was flooded with five inches of water."
"We lost our A/C unit, all our flooring, all the lower cabinets in the kitchen, furniture…the walls were damaged, and worst of all, mold quickly covered everything," Sarah said. "It was just awful. We had to move to my mom's house, because we had nowhere else to stay."
Fortunately, Cape Hatteras United Methodist Men (CHUMM) are on the island. This agency has served Hatteras Island for 43 years, providing a host of compassionate services, from running a food pantry to comprehensive help after disasters. "We're not all men, we're not all Methodist, and we don't all live here," said Dennis Carroll, CHUMM Director. "What we are is a group of dedicated volunteers whose main mission is to care for our islanders and for one another, without stipulation or discrimination."
What CHUMM leaders found was that coordinating all the volunteers who showed up to help would prove to be a big task, but was, in the end, a good problem to have. "Even a surf club from down south came," said Dennis.
Dare County Social Services helped the family detail the extent of the damage and secure assistance (they screened and prioritized need for all families applying for help on the island). CHUMM treated Sarah's home for mold and further assessed the storm's impacts and what help they could provide.
In the meantime, volunteers streamed south down Highway 12—the Baptist Men, other Methodist groups, Hatteras Island CERT (Community Emergency Response Team)—were particularly helpful, Dennis recalled. Volunteers helped move out the ruined items and furnishings, and demo'd the flooring, wet sheetrock, and insulation. By Thanksgiving, the mobile home was ready for renovations—but it would be several weeks before the next phase could begin. That's because there were other families also needing longer-term help, and most of the outside volunteers were gone, or helping on Ocracoke. For a time, CHUMM volunteers were staging and executing work on many renovation projects, as quickly as they could.
"Going by our home was traumatic for the kids and me at first," said Sarah. "It was just so sad to not be in our home, and to have so many of our personal possessions gone forever."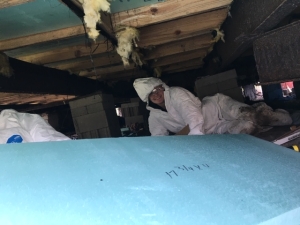 "But over time," she continued, "we were encouraged by all of daily activity—like the group of older ladies working with CHUMM under our trailer, tearing out insulation. And so many other helpers, too. Our sadness was replaced with gratitude for these strangers who cared about us and who gave us so much."
CHUMM found temporary housing for the family in Avon, thanks to a friend at St. John United Methodist Church.
CHUMM volunteers helped Sarah apply for grants that would eventually pay to replace the flooring, roof, and A/C unit. Knights of Columbus, for instance, asked CHUMM to identify households with young children for their grants; the Allender's were one of the families selected. Community Foundation grants to CHUMM supplemented other donations to pay for a new roof and make other repairs. CHUMM volunteers did a great deal of the actual labor. Sarah and her mom pitched in with repairs and painting where they could—they even painted the home's exterior a beautiful sky blue. But none of it was easy. All the renovations happened in early 2020. Finally, the Allender's home was ready for the last step of the rebuild—raising it up on pilings, so it would be out of harm's way in future severe weather events.
At the same time all this work was going on, CHUMM members were considering ways they might be more proactive in resiliency projects, so that repetitive loss properties were better able to withstand the worst storms. They had helped several homeowners apply for FEMA grants to raise homes; manufactured homes, however, such as the Allender's, did not qualify. CHUMM presented the idea of raising manufactured homes onto pilings to your Community Foundation. The board agreed this was an urgent need, and disaster relief funds were made available to raise twelve homes, including Sarah's. The project was administered under a grant from the American Red Cross to Outer Banks Community Foundation. Local rebuild efforts were supplemented by some visiting volunteer groups, but most of the rebuild volunteers were focused on Ocracoke.
"CHUMM was blessed by a wonderful group from the Salem Church in Fredrick, MD who came for a week during the Dorian Rebuild," said Dennis Carroll. "Sarah's home was which we teamed up on. We made many friends during that long week. We still keep in touch."
"We were blessed with other off-island friends, as well," continued Dennis, "including volunteers we worked with on Ocracoke and Hyde County. Outside help on Hatteras Island was most intense immediately after the storm, and not during the rebuild phase. Ocracoke Island had the more urgent, ongoing volunteer needs.
"There was one CHUMM volunteer who worked morning, noon, and night here," recalled Sarah, with a little bit of disbelief. "He parked his camper right on the property…he was out working after dark with a headlamp."

"That's Gil Brown, a retired NCDOT engineer and a former Frisco resident, who lives near family in Raleigh," related Dennis. "He is always 'on call.' He comes with his camper, towing a tool trailer, and he stays until the work is done."
Gil told Sarah, "I just want to see you and your kids back in your home, as soon as possible."
"Being back in our new, improved home is security," said Sarah. "It's what I've wanted forever—to be able to be here for my family, when they need me, and not to have to worry for my safety or that of my children. It's a lifelong blessing; there is no way in the world I could have ever done this by myself."
"We're all so grateful to everyone who made this miracle happen for me and my family," she said.
We never know exactly where a storm will strike; this story is one of hundreds of Dorian stories, and it could have happened to any one of us. Thank goodness for the thousands and thousands of donations, totaling more than $1.6 million, that poured into the Disaster Relief Fund in fall and winter of 2019.
The Disaster Relief Funds is a critical source of support for the Outer Banks Community Foundation, and, in turn, for Cape Hatteras United Methodist Men and the people they help. The Community Foundation manages the Disaster Relief Fund for the Outer Banks, and it stands 100% at the ready for future disasters.
You can help us prepare for future storms by making a contribution to the Disaster Relief Fund today. Thank you.
https://obcf.org/wp-content/uploads/2021/10/ALLENDER-FAMILY-002.jpg
2048
1536
Nandy S
https://obcf.org/wp-content/uploads/2013/07/obcf-logo.png
Nandy S
2021-10-22 16:52:53
2022-03-15 16:48:05
Lifting Families Out of the Harm's Way on Hatteras