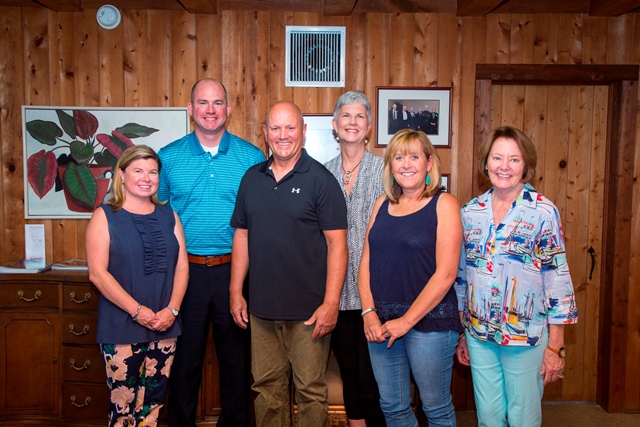 New Scholarship Funds Honor Beloved Parents
Story by Kip Tabb
Overseeing almost 50 scholarship programs and with a history of working with the community to help students reach for their dreams, the Outer Banks Community Foundation has been awarding scholarships to students since its founding in 1982.
The scholarship program has grown every year since the first scholarships—the Inez Daniels Austin Scholarship and the George W. Neighbors Memorial Scholarship—were awarded in the early years, awarding $154,000 in scholarships in 2017.
For many the scholarships are a way to remember a parent, or spouse or a son or daughter who was passed away, and in remembering them, honoring a legacy of caring.
Billy McOwen and his wife, Monica, recently created the Jeannette U. McOwen Memorial Scholarship Fund as a way to celebrate his mother, who taught in some of Cincinnati's most troubled schools.
"My mom was a teacher and became a single mother and she raised us on a teacher's salary," McOwen said.
For him the scholarship represents a way to remember his mother and show his appreciation for the Outer Banks community.
"My son grew up having really good teachers here in Dare County," McOwen said. "It just made sense for us. I could find a way to honor my mother in perpetuity and also create a scholarship fund that would be to the benefit of people locally that were interested in becoming teachers."
The fund, which will be administered in partnership with Manteo Rotary, will enable students to continue to use the scholarship over a number of years, according to McOwen.
"The one thing in talking to Lorelei (Costa, Community Foundation Executive Director) in how we could do this, the second year, third year, fourth year, we didn't want to keep it for just the first year. We kept it open so that people could even get it for their graduate years," he said.
The McOwen Scholarship is not the only scholarship that is being introduced this year. The Lillian W. Riddick Scholarship for Nurses is also new, and also named for a parent.
Lillian Riddick did not become a nurse until she was in her 50s following her husband's death. After earning her nursing degree she went to Africa where she served until failing health forced her to retire.
Like the McOwen Scholarship, the Lillian Riddick Scholarship for Nurses is a way to honor the love and dedication to family and the community. Similar to the McOwen Scholarship, it can be renewed as a student goes through their college career.
If the scholarship funds represent a way to pass along a legacy for the donors, for the students who have earned the awards it is a chance to experience everything that college life has to offer.
The Milton A. Jewell Academic Scholarship is the most prestigious Community Foundation scholarship, offering students a four-year grant of $6,000 per year, provided they maintain a 3.0 GPA.
Attending Cornell University, 2017 Jewell Scholar, Sarah Skinner, seems to be living a dream.
"I absolutely adore the place I am going to school," she told the Community Foundation. "The campus is beautiful, the people around me are exposing me to new and different ways of seeing the world, and the opportunities available are truly awesome."
In spite of a heavy academic workload, Skinner found time to join the staff of the Cornell Daily Sun, which, as she points out, is the oldest independent college newspaper in the nation, and because she is on the staff of the paper she has had opportunities that can have a lifelong impact.
"Working on the Sun has been an amazing experience," she said. "And it allowed me to attend a news writing workshop with Pulitzer Prize winner, and Sun alum, Jay Branagan."
Sawyer Scholar Christian Eberhard is majoring in film studies at American University in Washington, DC. His experiences at the college are what make attending school so important in learning about the world around us.
"When I got there, I was worried that I would be all by myself but it was only a few days before I started to make some really good friends," he writes.
Active in theater when he was a student at First Flight High School, Eberhard is taking full advantage of what the school has to offer.
"My favorite club… is American University-TV's sketch comedy show The Break. My friend Eli and I joined the club together, and it's been some of the most fun I've had," he writes, adding, "As a film major, it's really great to have this hands-on work and experience which the club provides."
The stories Skinner and Eberhard tell are what makes the college experience so important, and the support the Outer Banks community has given the students over the years has helped to create a healthy, thriving community.
"Each of our 50 scholarships has a story about the donors who created them and, often, the people who inspired our donors," Community Foundation Executive Director Lorelei Costa said. "It's an honor for us to steward these legacies and support the amazing students who receive the awards."
The Outer Banks Community Foundation is now accepting scholarship applications online. The deadline to apply is 11:59 pm, Sunday, March 25, 2018. Students may go to www.obcf.org to start their application.
Photo: The Jeannette U. McOwen Memorial Scholarship is one of the Outer Banks Community Foundation's newest scholarships, created by Billy and Monica McOwen (third and fifth from the left) as a way to celebrate his mother, who taught in some of Cincinnati's most troubled schools. Photograph by Deborah Sawyer.
https://obcf.org/wp-content/uploads/2018/03/McOwen-Scholarship-smaller-Photograph-by-Deborah-Sawyer.jpg
427
640
Nandy S
https://obcf.org/wp-content/uploads/2023/10/OBCF-logo-primary-3c-web.png
Nandy S
2018-03-06 10:38:03
2022-05-26 11:24:03
New Scholarship Funds Honor Beloved Parents