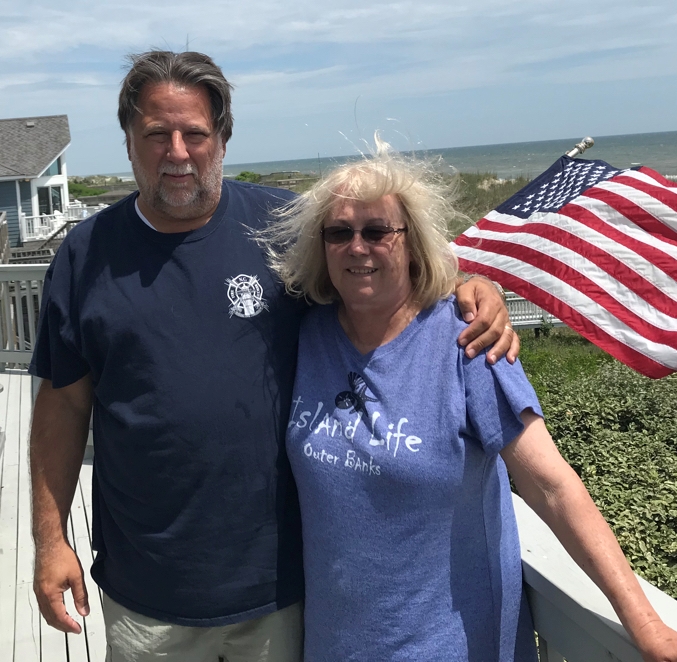 New Evans Scholarship Pays It Forward
Story by Kip Tabb
When Betty Evans was in nursing school, an anonymous donor reached out and helped her at a time of need.
"Someone donated money, and they chose me to receive it," she said.
"It was $50, which doesn't sound like much, but at the time I was really struggling. Just the idea that somebody wanted to help really made a difference. And it stuck with me."
Betty went on to a career as an operating room nurse, specializing in heart surgery, a career that was personally and professionally rewarding. And now that she has an opportunity to do so, she and her husband, Wayne, would like to give another nursing student the same kind of help that meant so much to her.
Starting next year, the Elizabeth and Wayne Evans Scholarship will do just that. This new, need-based scholarship through the Outer Banks Community Foundation will help local nursing students attend any two-year or four-year nursing degree program.
"There's a need for nurses," Betty said. "There's a shortage, and there will be more of a shortage in the future. It's such a great career, and there's so many places in it to go into."
Originally from Beaver Falls, Pennsylvania, Wayne and Betty have always believed in giving.
"We came from pretty poor backgrounds," Wayne said. "We've been blessed in life, and now we want to give back."
"We always like to help. Back home we always to try to help with animals and veterans groups," Betty said.
The veterans groups for Betty, especially, have a special meaning.
"One of the girls I worked with lost her son in Afghanistan," she said.
Most of the giving they have done in the past was anonymous, and usually through the local Catholic Church. Because of the Evanses, children from Beaver Falls who may not have had anything for Christmas found presents under the tree.
"We have a lady at the Catholic school who knows the kids," Betty said. "She gets the wish list. She does the shopping. She does the wrapping. We get the thank you notes. They're just so sweet and so funny. It's so much fun to get those and see how cute they are."
"I think we get more enjoyment out of giving the money to people," Wayne said.
For the most part, Wayne and Betty live in Corolla now, in a home by the sea they bought some years ago. Sometimes Wayne still gets an occasional call from the restaurant equipment repair company that he founded.
"Other than that I'm retired," he said.
"He loves it here," Betty said. "When we get back home, he's just so anxious to get back here. There's something so soothing about the ocean and the sound of the surf."
Once settled in their new home, the Evanses had that same desire to give back to their new community. The Outer Banks Community Foundation, with its emphasis on local giving, seemed like a natural fit.
"We like to donate locally. We don't like those big charities," Wayne said.
Then they read about Bonnie Pfennighaus and Louise Baraw, and their planned gift to establish a scholarship fund.
"When I read the article, that gave us the idea to go with the Community Foundation," Wayne said. "Then I read up about them, and they seemed like a pretty good organization."
The Community Foundation's programs and services to donors seemed to fit the way the Evanses prefer to give.
"It gave us a place to go centrally," Wayne said.
It also gave the couple the opportunity to do something they had been discussing for a while.
"We had talked about starting a scholarship before," Betty said.
Betty's scholarship donor was anonymous, and the Evanses, too, had been anonymous in their past gifts.  Then they realized that by telling their story, other potential donors may read about it and be motivated to step forward.
"If somebody else sees our article, maybe they'll go to the Foundation, too," Wayne said. And that first gift, which helped Betty when she was a student, will be paid forward yet again.
https://obcf.org/wp-content/uploads/2018/10/Evans-Credit-Kipp-Tabb-Square.jpg
662
677
Nandy S
https://obcf.org/wp-content/uploads/2023/10/OBCF-logo-primary-3c-web.png
Nandy S
2018-10-25 17:07:07
2022-05-04 12:55:02
New Evans Scholarship Pays It Forward