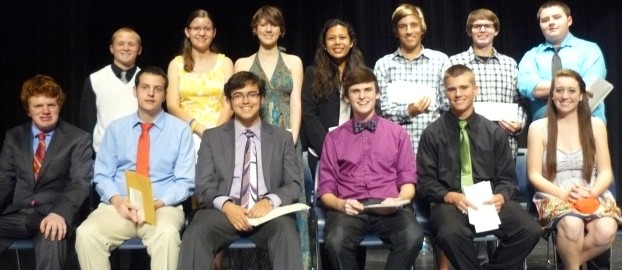 Scholarship Deadline Is March 31
UPDATE: The scholarship application deadline for 2014 has now passed for all high school seniors and for all renewal candidates. Unfortunately we cannot accept late applications, late recommendations, or late transcripts. We will announce our high school winners at each school's respective awards ceremony. We will inform renewal candidates of their status with a letter in May.


The Outer Banks Community Foundation is now accepting scholarship applications from graduating high school seniors on its website. The application deadline is Monday, March 31.
The Community Foundation manages over 40 scholarship programs and awards over $120,000 to local students each year. Graduating seniors from Dare County, Currituck County, Ocracoke, and beyond are eligible and encouraged to apply.
"We have scholarships for a huge diversity of students," said Lorelei Costa, Executive Director of the Community Foundation. "We have scholarships for tennis players, golf players, arts majors, engineering majors, law enforcement majors, musicians, firefighters, nursing students, community college students, part-time students, and so much more."
"Many of our scholarships consider financial need, and some are strictly merit-based," said Costa. "Some are for Hatteras students; some are for Ocracoke students; some are for First Flight or Manteo or Currituck students. Some are open to all students across northeastern North Carolina. We urge every graduating senior to apply!"
From our website, students can apply for any Community Foundation scholarship, without having to make multiple copies of transcripts, recommendation letters, or application forms. Students complete one common application, upload one transcript, write one or two different essays, and apply for all Community Foundation scholarships for which they are eligible, all in one place.
Teachers and community members can provide confidential recommendations online, without having to make multiple copies.
For the Community Foundation's need-based awards, students are required to complete a FAFSA (Free Application for Federal Student Aid) and upload the resulting Student Aid Report into their application.
"We're using the FAFSA this year because most students already completed it when they applied for financial aid from their colleges," said Costa. "The FAFSA is the very best way we've found for objectively determining financial need. We honor our students' privacy, and these forms will be kept strictly confidential."
"If I could give one tip to every prospective applicant, it would be this: Start early!" said Costa. "Please don't wait until March 30 to begin your application. We have a strict deadline, and if you start too late, you might not get your recommendation letters and Student Aid Report in time."
Scholarships range from one-time awards of $250, to four-year awards of $1,000 per year or more.
Scholarship funds have been generously donated from individuals, families, businesses, nonprofits, civic groups, and government agencies to help local students pursue higher education. Any community member who is interested in establishing a scholarship fund with the Community Foundation is encouraged to call Lorelei Costa at 252-261-8839.
Among dozens of other awards, the Community Foundation offers three renewable scholarships at $5,000 a year, for a total award of $20,000. These prestigious awards are the Milton A. Jewell Academic Scholarship, the Jerry & Arlene Davis Scholarship, and the Sawyer Scholarship. Top candidates for these awards are invited to interview with the Community Foundation's scholarship selection committee.
All scholarship winners will be announced at their schools' Senior Awards Night in May.
For more information, check out our Scholarship Flyer for High School Seniors.
https://obcf.org/wp-content/uploads/2014/03/First-Flight-HS-Scholarship-Winners-2013.jpg
327
622
Nandy S
https://obcf.org/wp-content/uploads/2013/07/obcf-logo.png
Nandy S
2014-03-04 04:22:06
2014-04-02 01:53:22
Scholarship Deadline Is March 31