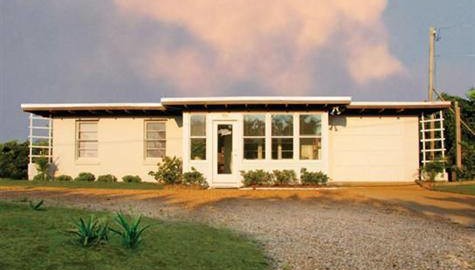 The Southern Shores Historic Flat Top Cottage Tour is back! The 2019 tour will be held on Saturday, April 23 from 1:00 PM to 5:00 PM. Tour tickets are just $7.00 per person and will be sold on the day of the tour beginning at 1:00 PM at 156 Wax Myrtle Trail or 13 Skyline Road. The ticket covers all of the cottages on the tour.
Fifty years ago, flat top cottages abounded across the Southern Shores landscape. Known for their distinctive cinder block walls, flat roofs, jewel-toned soffits, juniper paneling, and vertical shutters, Southern Shores flat tops were designed and inspired by Frank Stick (1884-1966), the visionary developer, painter, outdoorsman, and architect (whose son founded the Outer Banks Community Foundation). Today, only about twenty-six flat tops remain, most built from indigenous Outer Banks materials.
Fourteen of Southern Shores's remaining historic cottages will be open for the tour on April 29:
156 Wax Myrtle Trail (Clarke Cottage, and Tour Headquarters)
13 Skyline Road (Outer Banks Community Foundation, and Second Tour Headquarters)
39 Ocean Boulevard
43 Ocean Boulevard
69 Ocean Boulevard
113 Ocean Boulevard
159 Wax Myrtle Trail
23 Porpoise Run
142 Ocean Boulevard
157 Ocean Boulevard
169 Ocean Boulevard
176 Ocean Boulevard
218 Ocean Boulevard
18 East Dogwood Trail
There are two headquarter cottages where tour tickets will be sold: 156 Wax Myrtle Trail (entrance facing Porpoise Run) and 13 Skyline Road (Outer Banks Community Foundation). Sorry, advance tickets are not available. Maps will also be available at headquarter cottages, detailing the addresses of each open house. Brief histories of the cottages will also be provided. Balloons will mark cottages that are open on the day of the event.
All proceeds from the tour will benefit the Flat Top Preservation Fund of the Outer Banks Community Foundation. The Flat Top Preservation Fund is a perpetual endowment that helps fund the maintenance, protection, and preservation of the Community Foundation's flat top headquarters at 13 Skyline Road. Built in 1953 by Frank Stick, the cottage was donated to the Community Foundation in 2007.
For more information, please contact Sally or Steve Gudas at 804-399-8342 or seatide1@gmail.com.
Huge thanks to Baldwin Video Productions for the PSA Video below!
https://obcf.org/wp-content/uploads/2014/04/obcf.jpg
350
475
OBCF
https://obcf.org/wp-content/uploads/2013/07/obcf-logo.png
OBCF
2019-02-28 16:42:35
2019-05-05 12:22:34
You're Invited to the Southern Shores Flat Top Tour on April 27