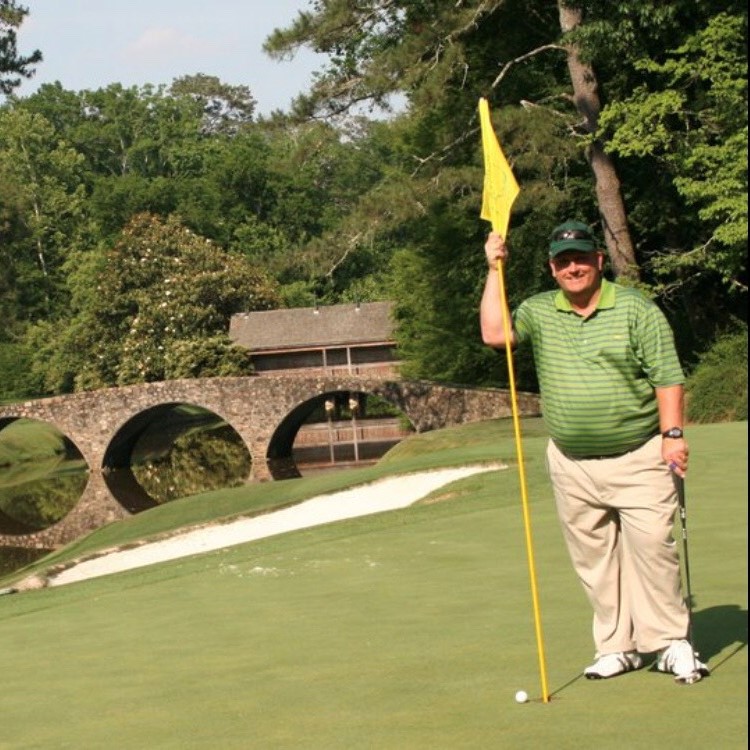 New Scholarship Honors Courage, Determination in Long-Time Coach
Story by Kip Tabb
Rex Sample led a remarkable life. A teacher, coach, athlete, and dad to two daughters, Margie and Nikki, Rex exemplified every value he hoped to impart to young people: courage, determination, and positivity in the face of hardship.
A new college scholarship will pay tribute to Rex's extraordinary legacy. Established through the generosity of dozens of family and friends, the Rex Sample Award for Courage and Determination will be given for the first time in 2019 through the Outer Banks Community Foundation to an athlete from First Flight High School who has overcome adversity with courage, determination, and a positive attitude.
Success in life is measured by many things—by the love of friends and family, by the success of a career, by doing the things you love. But ultimately, the trials and adversity of life define a successful person. By that standard, Rex Sample enjoyed a level of success very few ever achieve.
"Elton John was his hero, and his theme song was 'I'm Still Standing,' " said his wife of 20 years, Jackie Ricks-Sample.
Rex was a teenager when he diagnosed with leukemia. At that time, the early 1970s, the disease was viewed as a death sentence. His family, though, had a connection at the National Institutes of Health, and he was able to get into an experimental program.
"He was there off and on for a year," Jackie stated. There were over 100 patients in the program, she said, and Rex was one of the few to survive. "He was one of only 16 who lived."
After winning his battle with leukemia, Rex entered a career in education. He began teaching in Elizabeth City, where he grew up, but when First Flight Middle School opened in 1991, Rex immediately joined the staff.
Sports, kids, and coaching were always at the heart of who Rex was, according to Jackie. Tennis was his first sports passion, and he started playing in high school.  Once his teaching career began, he coached tennis, baseball, basketball, and eventually golf.
"Golf in his adult life became his passion," said Jackie.
Rex had opportunities, his wife recalled, to teach and coach at the high school, but middle school was where his heart lay.
"He loved his middle school kids, and his middle school kids loved him," she said. "He was always the teacher who looked out for the challenged kids."
Rex, however, continued to have challenges of his own. Part of his leukemia treatment involved numerous blood transfusions, and somewhere in all those procedures, he was infected with hepatitis C, a slow developing disease that can be deadly if left untreated.
The couple knew about the hepatitis when they were married in 1998, but Rex continued teaching and coaching, devoted to his kids.
"He coached many championship golf teams, and many championship baseball teams," she said.
"He was really an upbeat guy," continued Jackie. "Some days he didn't feel great and had to slow down some. But when he felt great, he would be on that golf course."
In fact, Rex became an accomplished golfer, with 11 hole-in-ones to his name. One of his greatest joys was his time volunteering at the Masters in Augusta.
By 2005 the hepatitis C had really begun to take its toll, and Rex had to begin treatment that included a year-long cocktail of drugs noted for their devastating effort on the human body. The cure rate was only 50%. Rex endured 3 rounds of this treatment, but the virus persisted. By 2006 the severe effects of the drugs forced Rex to give up his dream job.
"He just couldn't maintain the energy.  As much as he hated it, it was time to go on disability," Jackie said.
Yet through it all, Rex faced his challenges with courage. "He just had a wonderful sense of humor and a positive outlook," Jackie recalled.
Rex continued to surround himself with loved ones, who helped him through these difficult times. "His friends would say they just loved being around him. He was fun. He was funny. If he was your friend he was your best friend," Jackie said.
Finally, in 2014 when new drugs were introduced, there was success.
"We were like, 'Yay! We've been fighting this disease for all these years, and it's finally gone,' " Jackie said.
Rex, however, still had challenges ahead. By that point, his liver was so damaged by the virus that it had become cancerous, and the only option was a transplant.
Rex continued to fight with positivity and determination, and the transplant was successfully completed in 2016.
"They called him Fat Cat," Jackie said. "That was his nickname because he was a cat with nine plus lives. He just kept overcoming these challenges."
At first the couple thought they had finally defeated the disease.
"He got through that, and was feeling good. But… the cancer had spread," Jackie explained.
The first stroke was in September of 2017. Four months later, Rex Sample passed away. He left behind family and friends who loved and admired him, and countless students whom he had inspired and mentored.
Although his life was finally taken by the disease that he fought for so many years, the legacy that Rex left is one of optimism, hope, and love of life. "He had a non-defeatist attitude. He just kept overcoming all these challenges," Jackie said.
The scholarship in his name will give opportunities to young people who have also faced hardship. Open to college-bound high school seniors, the Rex Sample Award is one of 50 scholarships held by the Outer Banks Community Foundation. Starting in late February, students can apply for the award—and any other OBCF scholarship for which they are eligible—through a common application online.
"We thought, what better way to honor Rex than to create a scholarship that would recognize… an athlete who has overcome adversity," Jackie said.
"For him it was health, but it doesn't have to be health. It could be challenges growing up. It might be family. It could be school. It really could be any adversity… how you deal with it and how you overcame it."
"You just never give up," said Jackie. "I think that was sort of his mantra." It's a legacy of courage and determination that will continue to live on.
https://obcf.org/wp-content/uploads/2018/12/Rex-Sample.jpg
750
750
Nandy S
https://obcf.org/wp-content/uploads/2023/10/OBCF-logo-primary-3c-web.png
Nandy S
2018-12-19 22:05:11
2022-05-26 11:25:54
New Scholarship Honors Courage, Determination in Long-Time Coach