Community Foundation Awards $47,700 to Combat Addiction, Support our Youth, and Enhance Community Space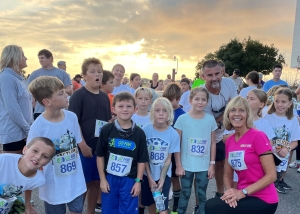 The Outer Banks Community Foundation board of directors approved $47,700 in First Quarter Community Enrichment grants to four nonprofits, lending support to programs for addiction treatment and recovery, youth and education, historic preservation, and child health and well-being. This is the first of four award cycles for Community Enrichment grants this year; more than $200,000 in funding is available from this grants program in 2022. Applications were received from Saving Lives Task Force, OBX Go Far, Ocracoke Preservation Society, and Water's Edge Village School; all four nonprofits were awarded funding.
Saving Lives Task Force has operated since 2014 to combat substance abuse and addiction, tackling the problem strategically in five areas: Assess, Prevent, Reduce Harm, Connect to Care, and Track and Measure. The nonprofit was awarded a $2,950 grant from the Community Foundation to provide weekly, life-skills training workshops to people in recovery. Life-skills training offers tools and information to building self-esteem and achieving greater independence, which can help prevent relapse. This training series is a new program for the group. Topics will include nutrition, stress and pain management, finances, and healthy relationships. The Task Force expressed there is a lack of insurance and other forms of support for life skills training.
OBX Go Far volunteer mentors help kids learn how to run and compete; also built into their six-week programs for elementary and middle-school children are life lessons in responsibility, goal-setting, attitude, commitment, and respect. A Community Foundation grant of $19,750 will allow the group to reach more Dare families by supporting an updated, bilingual website and underwriting program fees for many participants. "Due to the pandemic, the majority of our families are now in need of assistance, and we are here to serve them," wrote OBX Go Far Executive Director/Dare County After-School Enrichment Director Samantha Brown.
Ocracoke Preservation Society is restoring the historic Odd Fellows Lodge, a 1901 two-story wood frame building located on an acre of land near the center of Ocracoke Village. The lodge has served many purposes over the years, including as island schoolhouse, US Navy look-out, and, more recently, as The Silver Island Inn. The Society's vision is to have the first floor of the restored lodge serve as a welcome center for island visitors; the second floor will house nonprofit administrative offices. A $15,000 Community Foundation grant toward roof renovation will help support the restoration project.
Water's Edge Village School in Corolla teaches 44 children, fostering learning in this small community and saving students more than four hours of transport each day to other schools in Dare and Currituck. The school has a waiting list of students but lacks the space to accommodate a larger student body; they are undertaking a capital campaign to increase their capacity. A Community Foundation grant of $10,000 will help the growing school purchase classroom technology and equipment.
"The Community Enrichment grants process offers an opportunity for nonprofits to apply for funds from an unrestricted grant-making pool that has grown considerably over the years," said Community Foundation President and CEO Chris Sawin. "We encourage nonprofit leaders to contact us at any time throughout the year to discuss their projects, so we can work together to help address both pressing needs and promising opportunities."
Grant applications are submitted to the Community Foundation via an online grants link. Organizations interested in applying for grants should contact Chris at the Community Foundation to discuss their project, prior to submitting an application. The next round of Community Enrichment grant applications is due by 11:59 pm on Friday, April 29.
https://obcf.org/wp-content/uploads/2022/03/Team-OBX-Go-Far-cropped.jpg
1538
2159
Nandy S
https://obcf.org/wp-content/uploads/2023/10/OBCF-logo-primary-3c-web.png
Nandy S
2022-03-21 11:06:35
2022-03-31 14:53:58
Community Foundation Awards $47,700 to Combat Addiction, Support our Youth, and Enhance Community Space