Looking Back at a Significant Year of Grant-Making
More so than possibly any year in our history, 2021 was a watershed year for our grants programs. We've worked with Outer Banks nonprofits to launch, continue or complete their COVID Rapid Response grant projects.  At the end of the summer, we closed out a major grant award from the Red Cross, which was an important element in our overall Hurricane Dorian relief efforts. We've awarded scholarships to nonprofit leaders to attend Duke U. Continuing Education Nonprofit Management Program, an eight-week intensive which will begin in January. In addition, donors and grant programs have provided over $800,000 in funding so far in 2021; those with donor-advised funds are still recommending grants for this year's giving.
In addition, four new 4th quarter grant awards will provide nonprofits with resources to fight food insecurity, isolation, poverty, and more. Donations to the Community Fund supported each of these grants:
Families in need will have a better shopping experience, and more nutritious food will be available to clients, thanks to a new grant. The Community Foundation awarded Beach Food Pantry (BFP) $16,600 to support their efforts to replace their 20+ year-old walk-in freezer with a larger model, and to purchase a walk-in refrigerator, the first walk-in refrigerator ever for the agency. BFP is the only local pantry with a walk-in freezer, and they regularly share donated frozen and refrigerated products with all other Dare and Lower Currituck County food pantries and feeding groups, including Ruthie's Kitchen, Room in The Inn, and Food for Thought.
The new equipment allows BFP to maintain proper food safety standards, shield the local pantry food supply chain, reduce waste, lessen administrative time, grow their summer Food for Kids program, grow online ordering for families in need, and reduce stigma associated with food pantry shopping for needy families and individuals.
Phones and computers are the backbone of many organizations; Interfaith Community Outreach (ICO), a powerhouse of help to our community's needy, is no exception. The primary focus of ICO is to provide emergency assistance to those in our community who are facing a temporary emergency crisis. ICO was awarded $16,295 to update computers, phones, and computer programs at their office. This grant will positively impact ICO, and our community, through their increased productivity, better customer service, improved digital security and marketing campaigns, among other benefits.
In 2020 ICO assisted more than 1,000 local families and invested more than $400,000 to help people in financial need; since ICO was formed 16 years ago, it has given back $4.5 million in monetary outreach and has served 9,000 families.
Outer Banks Center for Dolphin Research is dedicated to the conservation of bottlenose dolphins in the Outer Banks through research and education. They monitor the local dolphin population aboard boat-based surveys in the Roanoke Sound; results have been used to create public outreach displays to increase awareness for local dolphin conservation.
Outer Banks Center for Dolphin Research was awarded $1,000 to help design and install an educational walking tour for visitors at the dock overlooking the sound on the Nags Head Causeway. The Center will use the new walking tour to raise awareness about the biological resources and ecology of Roanoke Sound. A long-term goal of the new walking tour is to inspire people to contribute to conservation and environmental stewardship through increased awareness and appreciation.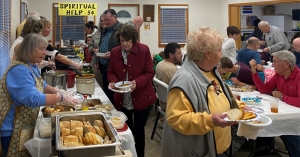 St. John United Methodist Church received a $2,400 grant award to enlarge their kitchen and continue their free community dinners program on Hatteras Island. The group has been serving free community meals since 2014. They estimate they will serve more than 3,000 meals during their 11-week winter program. St. John UMC is enlarging its existing kitchen by adding an additional stove and sink, upgrading electrical, and adding a service window, all to accommodate preparing and serving meals for 300 islanders each week on Thursday nights. Since COVID, meals have been to-go; the group also provides meals to shut-ins. Reverend Miller wrote, "This outreach ministry reaches everyone, especially those who struggle with food insecurities. It is also a way to reach those who are homebound so they know that others care about them and are checking in on them."
https://obcf.org/wp-content/uploads/2021/12/prep-best-crop-3.jpg
1393
1795
Nandy S
https://obcf.org/wp-content/uploads/2023/10/OBCF-logo-primary-3c-web.png
Nandy S
2021-12-10 16:51:38
2021-12-22 09:54:51
Looking Back at a Significant Year of Grant-Making