Cyclist and Pedestrian Safety Gear Give-Away at KDH's Ice Cream Social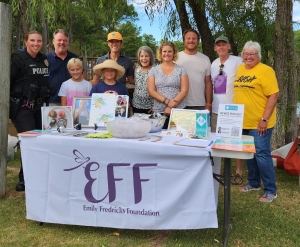 Ice Cream Socials bring the community together! Kudos and thanks to the Mayor Ben Sproul, Town Manager Debbie Diaz, and the Town of Kill Devil Hills for hosting a well-attended, fun and free Ice Cream Social on September 27. We appreciate being invited to have a bike safety gear give-away table at the event. We were joined by Rich and Laura Fredricks from the Emily Fredricks Foundation, who donated gear  and helped us give it away to hundreds of attendees. We promoted a message of safety, listened to residents, and enlisted help for the OBX Bicycle and Pedestrian Coalition, a volunteer group working toward safer streets for everyone.
We think it's a cause we can all get behind.
Rich and Laura Fredricks established the Emily Fredricks Foundation in their home state of New Jersey; in 2021 they created the Emily Fredricks Memorial Fund for Bicycle and Pedestrian Safety at the Outer Banks Community Foundation so more resources would be available to address Outer Banks safety issues. We couldn't be more grateful to them for generously sharing their vacation time and their thousands of reflective arm bands, bike bells, and bike lights, as well as their personal experiences and knowledge that comes from years of focus on this important issue.
It was gratifying to have the support of local leaders and to hear from so many community members interested in getting behind the local Outer Banks Bicycle and Pedestrian Safety Coalition. We had some terrific conversations and gathered a page of emails for the group.
Pictured are (L-R) Kill Devil Hills Community Outreach Officer Lora Gilreath, Community Foundation CEO Chris Sawin, Gray Berryman and his twin daughters Stella and Lulu, MaryAnn Toboz (OBCF), and Jessica Piacenza and Ben Saltzman (Outer Banks Bicycle and Pedestrian Safety Coalition), and Rich and Laura Fredricks (Emily Fredricks Foundation).
The Coalition is looking for volunteers to serve on their board of directors. Reach out to them on Facebook or by emailing them at chair@obxbikeped.org if you are interested.
We also want to take this opportunity to recognize and thank the Town's Administration Department for coordinating the event, the KDH Fire Department staff and volunteers for working the hot dog and hamburger grills and serving stations, and the KDH Police Department for giving away ice cream throughout the evening. It all made for an fun and meaningful community event.
https://obcf.org/wp-content/uploads/2022/09/KDH-social-Bike-and-Ped-Safety-scaled.jpg
2107
2560
Nandy S
https://obcf.org/wp-content/uploads/2023/10/OBCF-logo-primary-3c-web.png
Nandy S
2022-10-07 16:31:41
2022-10-07 16:31:41
Cyclist and Pedestrian Safety Gear Give-Away at KDH's Ice Cream Social