Nandy Stuart Promoted to Chief Operating Officer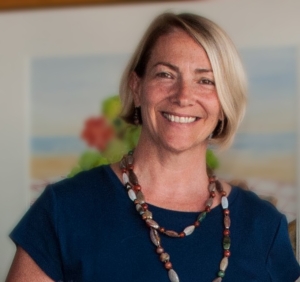 The Outer Banks Community Foundation is pleased to announce the promotion of Nandy Stuart to Chief Operating Officer, effective October 10, 2022.  In her new role, Nandy will oversee the organization's operations, implement new business processes, and establish policies that promote the Community Foundation's culture and vision.
"Nandy embodies two of the most important attributes of an effective nonprofit leader – high professional standards and a deep commitment to the people we serve," said Community Foundation CEO Chris Sawin.
Nandy joined the Outer Banks Community Foundation in 2019 as the Scholarship Program Manager. She hails to the Outer Banks from Gainesville, Florida, where she had two successful careers, the first as General Manager in the collegiate bookstore industry and the most recent as Director of Outreach Programs for an intimate partner violence agency.  A leader at both organizations, she was recognized for her mentoring skills and for creating meaningful collaborations with partnering agencies and businesses.
Nandy earned a master's degree from the University of Florida and relocated to the Outer Banks to be closer to family. Born in Argentina, she has lived and traveled extensively in Latin America. Her background and love for diverse cultures are evident in her work at the Community Foundation as staff lead for its Inclusion, Diversity, Equity, and Accessibility Committee and creator of multilingual content for the Scholarship program.
As Scholarship Program Manager, Nandy streamlined the application process and engaged schools, parents, and students to encourage more applications from diverse, underserved communities.  Under her leadership, the program has grown to over 60 scholarships, including opportunities for students graduating from community college seeking further education.
The Outer Banks Community Foundation is a 501(c)3 nonprofit charitable organization that connects people who care with causes that matter. Based in a historic Flat-Top cottage in Southern Shores, the Community Foundation manages $25 million across more than 200 charitable funds for individuals and agencies, awards grants to nonprofits, administers 60 scholarship programs, and provides tailored services to help donors pursue their charitable interests. Since its inception in 1982, the Community Foundation has awarded more than $12 million in grants and scholarships to local nonprofits and students. 
https://obcf.org/wp-content/uploads/2022/10/Nandy-blur-added-to-bckgrnd.jpg
1380
1470
Nandy S
https://obcf.org/wp-content/uploads/2013/07/obcf-logo.png
Nandy S
2022-10-24 11:07:02
2022-10-24 11:27:59
Nandy Stuart Promoted to Chief Operating Officer